COVID-19 epidemic
Dear customers & partners, Dear all,
As announced during his speech on the COVID-19 epidemic, Emmanuel Macron President of the French Republic underlined the gravity of the current situation: "Covid-19 which affects all continents and strikes all European countries is the most serious health crisis that France has experienced. We are therefore faced with a case of force majeure to which SPHEREA and PUISSANCE PLUS will adapt and mark the beginning of a unique and special period for all of us.
We followed the precautionary measures requested by our state services and organized, following the current situation, through a business continuity plan, our ability to manage the transition to Stage 3 of the crisis.
Acting as a company responsible for its commitments, COMEX has set up a dedicated organization ensuring compliance and coordination and execution of this business continuity plan based on 4 axes and ensuring the essential operation for all in the event of duration of this crisis:
Protecting our employees: our primary concern
Ensure the best fulfillment of our customer and partner commitments: respect for your trust
Ensure the robustness of the business: to stay by your side today and tomorrow
Preparing the future and the rebound for the end of this global crisis
Any major crisis situation has the advantage of exacerbating what we are, I have no doubt in the ability of the SPHEREA teams to demonstrate the merits of its values: Confidence Respect Involvement and Passion to cross together and at best performance this experience and support you.
Whatever the situations experienced and to be lived, we confirm our commitment and our confidence and thank you for yours.
Christian DABASSE, SPHEREA CEO
Francis DELPECH, PUISSANCE PLUS Manager
PUISSANCE PLUS
PUISSANCE PLUS has been part of SPHEREA GROUP since 2015 and is supporting the major players in electrification (multi sectors) for more than 25 years.
In a world where dependence from fossil fuels will decrease sharply during the century, PUISSANCE PLUS brings its unique know-how to meet the challenges of energy and mobility transformation for the future. To meet these challenges, PUISSANCE PLUS relies on its technological innovation capabilities, main driver of its growth.
More than 6000 products supplied around the world.
OUR SITES
- SPHEREA GROUP - Toulouse (31) : http://www.spherea.com
- PUISSANCE PLUS - Entzheim (67) : https://www.electrona.fr
- PUISSANCE PLUS head office - Montauban (82)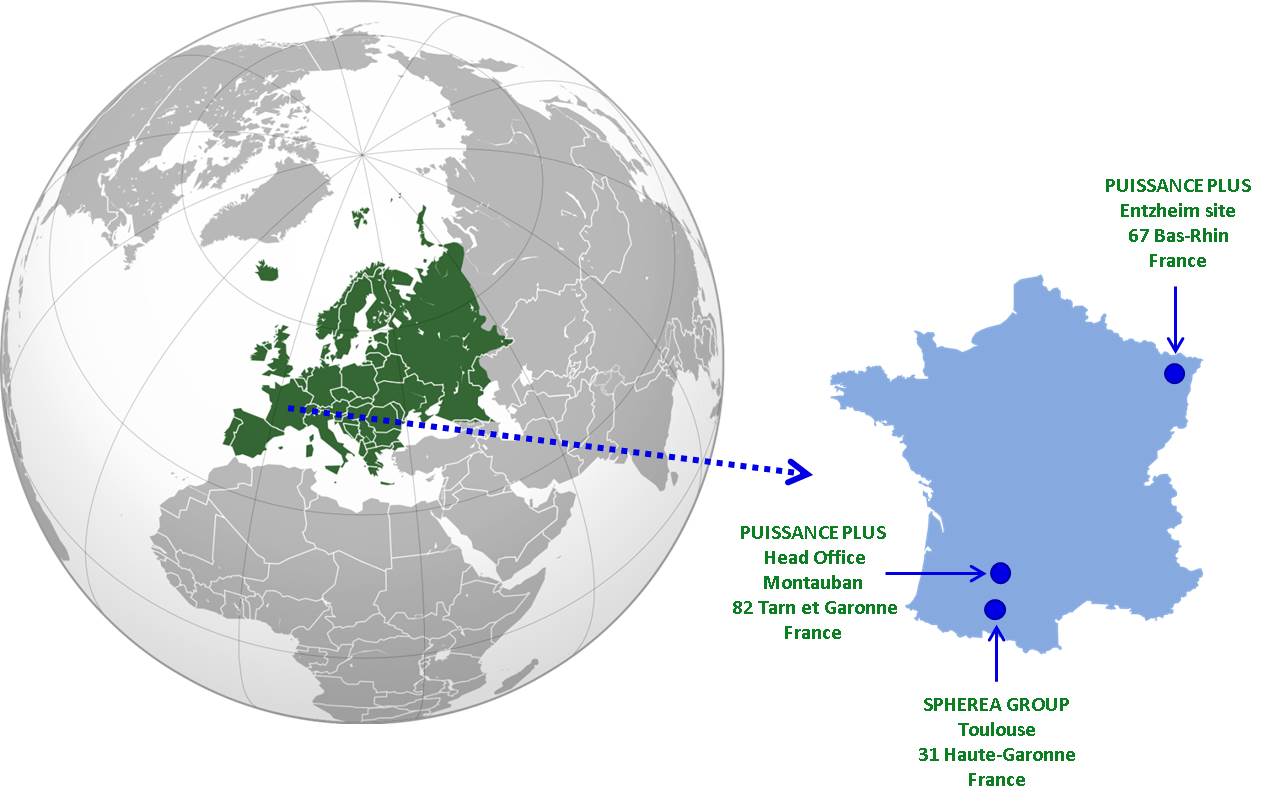 Francis DELPECH
Manager
Olivier SENTIER
Deputy Director
Jean-Pierre QUEMARD
Head of Sales
Maurice EISENBLAETTER
Entzheim Management